Fall Adventurers: Great Off-Road Vehicles in Pasadena, MD
Posted Monday, Oct 02, 2017
Want to an epic off-road adventure this fall in Maryland? Well here are our two favorite off-road vehicles in Pasadena, MD with the muscle, versatility, and comfort you're searching for.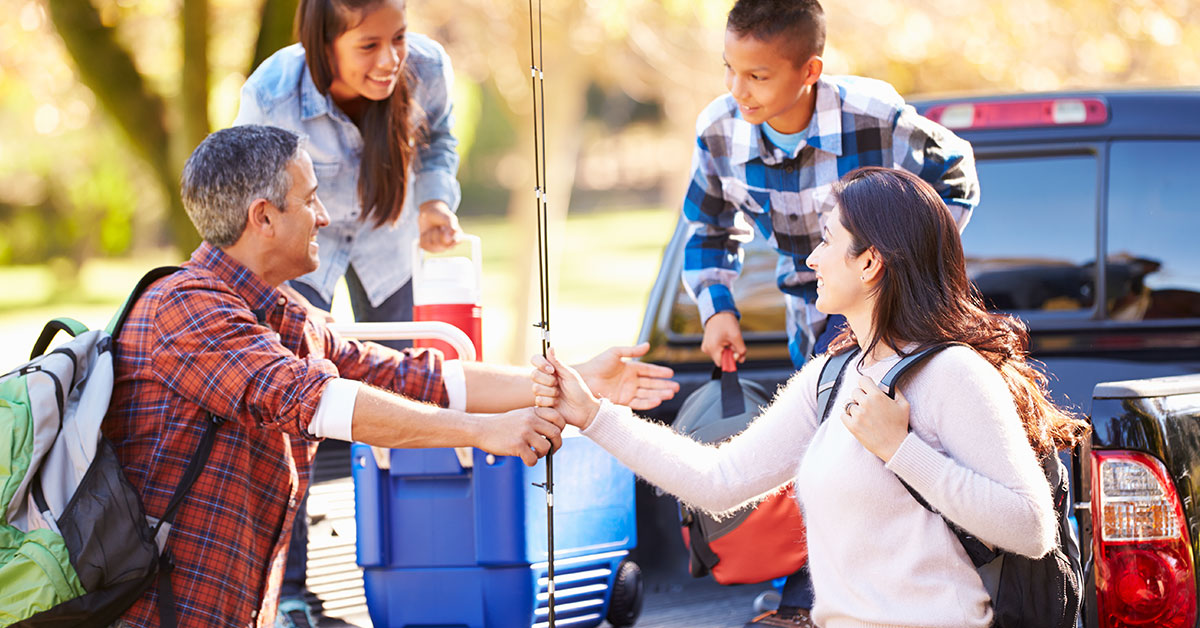 For us Marylanders, fall presents us with a great time for off-roading and outdoor adventures! The weather has gotten a little cooler and it's finally campfire time again. So whether you're looking to take a fall camping trip to Assateague Island or checking out the brand new off-road vehicle trails in Garrett County, you're probably in search of a well-suited vehicle for your adventure! At Pasadena Pre-Owned, we've got a huge inventory of used off-roading vehicles to suit your needs and budget!
Here are our current two favorite off-roading SUVs available in Pasadena, MD:
Jeep Wrangler Rubicon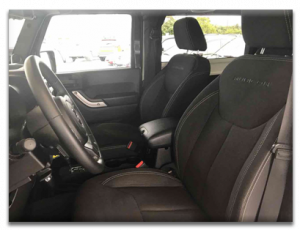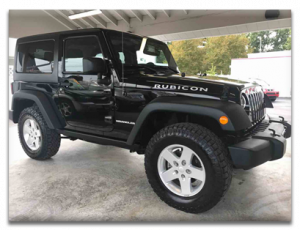 The Jeep Wrangler Rubicon is the ultimate off-roading vehicle! Since its debut it 2003, the Rubicon has set an industry standard for what an off-road SUV should be. Out of all Wrangler editions, the Rubicon definitely boasts the most robust off-roading credibility. What we love most about the 2013 Jeep Wrangler Rubicon is how well it performs on and off-road. Its specialized hardware for a perfect and excitement filled driving experience includes:
Special 17-inch wheels
32-inch tires
Heavy-duty axles and transfer case
Electronic front and rear locking differentials
Disconnecting front sway bar
Rock rails
If your fall adventure includes trails, camping, and off-roading, you won't find a model much better than our 2013 Jeep Wrangler Rubicon Sport! In beautiful condition and under 23,000 miles, this Rubicon is on our lot and ready for you to test drive!
Toyota Tacoma Double Cab

Not everyone looks to our truck inventory when searching for their next off-roading vehicle. But we've got to say – if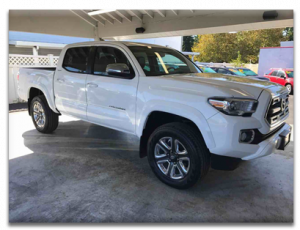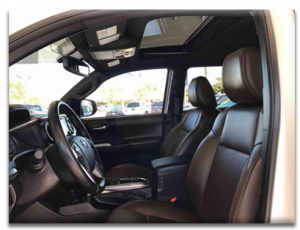 you're looking for a midsize pickup that can do it all, you definitely need to check out our 2016 Toyota Double Cab Limited. The 2016 Toyota Tacoma comes with a super efficient V6 engine that can tow up to 6,800 pounds and has more off-roading capabilities than any other midsize pickup. Big enough for the whole family, and you'll be able to haul firewood and other camping necessities for your fall adventure!
We love the completely redesigned exterior of the 2016 Tacoma, and all of the useful cargo features that aren't available on many other off-roading vehicles.
To exceed your wildest off-roading adventure dreams, our 2016 Tacoma includes the following features:
Tilt & Telescoping Wheel
SiriusXM Satellite Radio
Navigation syste4m
Bluetooth wireless Entune
Parking sensors & backup camera
Moon Roof
Heated Seats
Bed Liner
Towing Package
Premium Wheels
Leather Interior
We aren't exaggerating when we say this Tacoma is packed with all the bells and whistles. With only one owner and low mileage, this is as brand new as you can get! So if you're looking for off-roading excellence combined with a fully loaded ride – our 2016 Toyota Tacoma Double Cab Limited is waiting for you! Come check it out!
Jeep Wrangler Rubicon VS. Toyota Tacoma Double Cab
We've got to say that we LOVE both of these vehicles. When asked which we recommend more for off-road excursions, we answer with a question: what are your needs for towing. Because in the end, each of these vehicles can be counted on for amazing off-road performance. If you want to become a part of the Jeep family, invest in the Rubicon, and you won't be dissatisfied. Or if you're looking for a little more versatility and more cargo options for towing capabilities, the Tacoma is more up your alley.
Luckily we currently have both of these Off-Road Vehicles in Pasadena, MD, on our lot and just waiting for you to test drive! Give us a call today at 410-360-0400 and come see these vehicles! Make your fall adventure the best one yet!