AWD vs. 4WD for Maryland Drivers
Posted Monday, Nov 06, 2017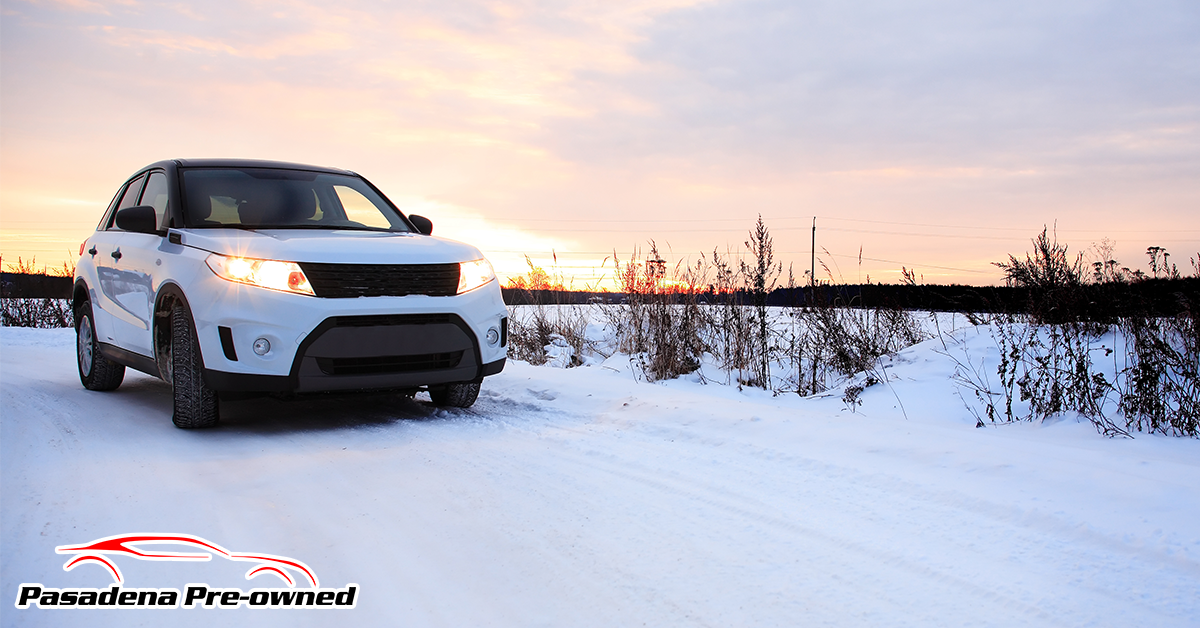 The leaves in Maryland have FINALLY begun to change and the weather has gotten somewhat cooler… we kind of feel like the seasons have totally forgotten about fall this year! But we know that winter is just around the corner, and with that comes our famously unpredictable Maryland snowstorms! To prepare for the winter weather, you might be in the market for a safe vehicle to get you through the icy season. As you've started your search, there are probably a few details and accessories you are considering. Fog lights, winter tires, heated seats, or a remote starter system are all things you might be looking for in a vehicle ideal for winter. Then you consider drivetrain, and you begin to wonder, AWD vs. 4WD?
There seems to be a lot of confusion when it comes to drivetrain. The automotive world is full of misinformation about all-wheel-drive and four-wheel-drive. Most car buyers have a clear understanding of front-wheel vs. rear-wheel drive, but not as much of AWD vs. 4WD… So let's go ahead and clear this confusion up today!
AWD vs. 4WD – Why are They Important
It's easy to say you want a car with AWD drivetrain for better handling in in-climate weather… because that is what you've been told is the best, right?
Well, this is a common misconception… Now don't get us wrong, we highly recommend vehicles with AWD or 4WD for a Maryland winter… however, these drivetrains weren't originally designed for in-climate weather specifically. But the reason they do so well in the snow and ice is that they have better traction.
Benefits of All-Wheel Drive
All-wheel drive is more commonly used in cars and smaller crossovers.
As its name implies, AWD vehicles provide power to all the wheels, all the time. However, the power is not always equally distributed.
What we think is particularly cool about all-wheel systems is how they are able to react to your driving situation or condition. Their sensors are able to monitor each wheel and determine where to send power to the wheels that need it to the most!
All-wheel drive vehicles come with an anti-slip technology that works well on all surfaces. Depending on the system, all-wheel drive can provide maximum forward traction during acceleration. With an AWD vehicle, you will have better handling on wet, slushy, or icy roads. However, AWD won't do the job off-roading like 4WD does…
If you are searching for a used AWD in the Pasadena, MD area – look no further! Check out our great inventory of used all-wheel drive vehicles by clicking the link below!

Benefits of 4WD
When we think four-wheel drive, we typically think trucks and SUVs!
Four-wheel drive is ideal for those of us driving in situations with limited traction – such as snowy weather or off-roading. What truly makes 4WD different from all-wheel drive is its lower gearing options for tough terrain. So let's say you plan on going off-roading this winter season – four-wheel drive would be ideal when choosing a new vehicle.
What we think is awesome about 4WD vehicles is that, depending on the system, you can turn it off to save on gas. Some newer vehicles will engage four-wheel drive automatically, which is great so you don't have to do anything yourself to turn it on. But if you are able to turn it off when you're not in need of the extra support, it will help you save on fuel economy! So when you're searching for a winter vehicle with 4WD – ask your salesperson if it is an automatic or manual four-wheel drive system.
Are you are searching for a used 4WD in the Pasadena, MD area? Take a look at our huge inventory of used four-wheel drive vehicles by clicking the link below!

AWD vs. 4WD – Our Final Thoughts
In our opinion, you should be considering both all-wheel drive and four-wheel drive systems when shopping for a winter vehicle. Maryland weather can be quite unpredictable, and having the extra support and tracion can give you better handling! But when it comes down to AWD vs. 4WD – all-wheel drive should be more than enough for the typical Maryland driver this winter. However, if you plan on taking your vehicle on rougher terrain, four-wheel drive is the way to go.