5 Family Cars with Great Gas Mileage – Currently in Stock!
Posted Monday, Sep 11, 2017

Are you looking to update and upgrade your family car?
With the start of the new school year, we know you're going to be putting on some extra miles driving your family to and from tryouts, practice, and extra curricular activities! Or maybe you're interested in a car to take that Thanksgiving road trip with the family – that won't drain your wallet at the gas station. Whether you're looking for an SUV or a sedan, we've got a huge inventory of family cars with great gas mileage at Pasadena Pre-owned!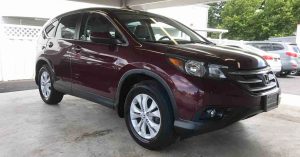 If you're looking for a small SUV with great gas mileage – we've got the perfect Honda CR-V for you. In 2014, U.S. News awarded the Honda CR-V the winner 2014 Best Compact SUV for the Money and a finalist placing in the 2014 Best Compact SUV for Families. The 2014 Honda CR-V gets great gas mileage with its incredibly comfortable interior for the family. Plain and simple, U.S. News calls the 2014 Honda CR-V a "good SUV" with "ample rear cargo space, good leg room, and a long list of standard tech features."
The 2014 Honda CR-V we currently have in stock comes with keyless entry, Bluetooth wireless, a backup camera, a moon roof, and hill start assist. With less than 90,000 miles and under $15,000 –this 2014 Honda CR-V would make an amazing family car with great fuel economy.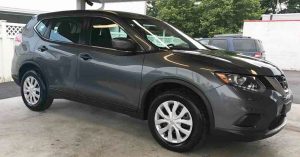 If high safety ratings and good gas mileage are what you're perfect family vehicle looks like – the 2016 Nissan Rogue is a fantastic choice! Giving a rating of 8.7/10, Kelley Blue Book notes the 2016 Nissan Rogue is "for those who favor style, fuel economy and a comfortable ride."
Our current 2016 Nissan Rogue feels brand new! Some of its incredible features include SiriusXM Satellite Radio, Bluetooth wireless, NissanConnect, keyless start, leather seating, a roof rack and a backup camera! If you're interested in this model, give us a call today at (410)-360-0400 – we don't think it'll stay on our lot for much longer!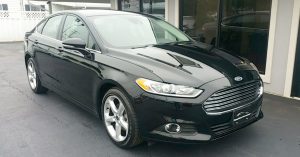 The experts at Edmunds described our 2016 Ford Fusion perfectly: "With solid power, excellent fuel economy, distinctive styling and a huge array of tech features, the 2016 Ford Fusion is a great choice for a midsize sedan." Ford knows how to build a stylish sedan with great tech features, a roomy interior, and strong fuel economy. It might not look like your average family car – but it will definitely please mom and dad!
We currently have not just one, but two 2016 Ford Fusions with Eco Boost on our lot! They're both in spectacular condition with impressive features like keyless start and entry, SiriusXM Satellite radio, MyFord Telematics and a backup camera! Check them out today in our new inventory!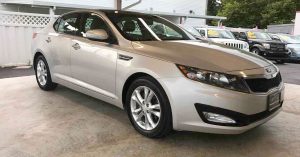 Sometimes when it comes to sedans, it's hard to find the superior style and luxury-car-like features you're interested in without breaking the bank. But the 2013 Kia Optima breaks the mold with a gorgeous exterior, roomy interior for the whole family, and a beautiful 22-city/ 34-highway fuel economy.
The 2013 Kia Optima we have in stock is an EX FWD model with a leather interior for just under $9,500! It's packed with features like heated and cooled seats, a panorama roof, Bluetooth Wireless, keyless start and entry, and the Premium Package Navigation System! Test drive the 2013 Kia Optima today and see for yourself how it combines excellent performance with an amazing fuel economy!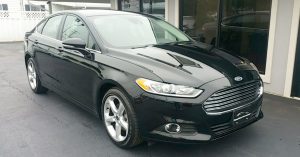 Cars.com notes that the "2013 Buick LaCrosse eAssist offers a comfortable ride and an inviting interior with unobtrusive fuel-saving technology." The 2013 LaCrosse has the comfort and luxury we've come to expect from Buick, and a NHTSA 5-star safety rating you can trust when it comes to your family and loved ones.
If we could describe the 2013 Buick LaCrosse we currently have on our lot – it would be "luxurious!" With large tan leather seats and a full sized sunroof, the whole family will have a comfortable ride! This LaCrosse still feels brand new with just around 35,000 miles and all the bells and whistles of a fully loaded Buick.
Test Drive One of Our Family Cars with Great Gas Mileage!
Great gas mileage is something that can't be beaten. Consider making an investment for your family in one of the above used cars we currently have in stock! At Pasadena Pre-owned we know safety comes first, and great fuel economy is an added bonus when finding that perfect car for your family! Give us a call today at (410)-360-0400 and we'd be more than happy to give you more information on all of our family-friendly vehicles!